Salah Times
Fajr .. tbd
Duhr .. tbd
Asr ... tbd
Maghrib Sunset
Isha .. 8:00 PM
Jummah 1:15 PM
Fajr, Duhr, Asr & Maghrib times are coordinated on the WhatsApp group
AMPO November 2023 Prayer Timetable (pdf)
Jummah Khateeb Schedule
11/03/23 - Dr. Farzan Mahmood
11/10/23 - Br. Salman Mohiuddin
11/17/23 - Sh. Ahmed Amin
11/24/23 - Br. Salman Mohiuddin
12/01/23 - Dr. Farzan Mahmood
Tentative schedule
---
About Us
Large Masjids have a large initial cost to build and also to maintain. They have very low attendance for five daily prayers, especially for Fajr and Isha. These large Masajids are fully utilized on Jummah and weekends. Musalla are small rented places of prayer and meeting in places away from Masajid Where 20-30 Muslim families live in a approximately five mile radius. The cost of operation is very low and can be run by a small group of members or volunteers.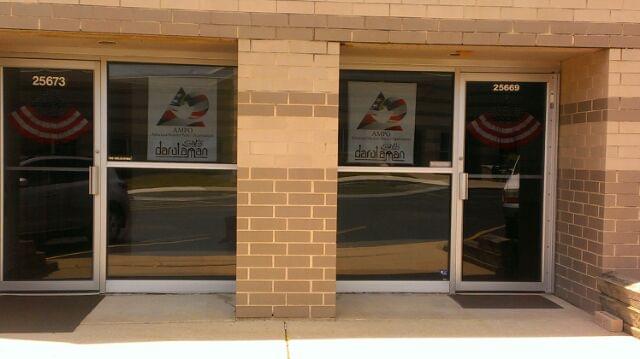 Organization Structure:
AMPO (Musallas) Centers would be decentralized bodies
Each Musalla would be run by the local membership free from electoral politics
Maintained and run locally by local Shura (Consultative Committee) with no office bearers
All members [Ansar (Helpers)] of the local Shura to be equals, mutually sharing responsibilities
Only educational and other technical support would be provided by the central Shura of AMPO
Musallas will be complementing Masajid and not competing with them.
Musallas Members would be advised to go to Masajid for Friday and Eid prayers
Activities
Five daily prayers
Jummah prayers
Free Quran memorization class every Tuesday, 5:00-7:30 pm. Enroll your children
Quran recitation class every Monday and Wednesday evenings
Al-Iman Saturday School at AMPO starting Sept. 20th, 11:30am-2:30pm
Taraweeh prayers in Ramadan
---
Support Us
American Muslim Peace Organization (AMPO) is a non-profit organization pursuant to Section 501(c)(3) of the United States Internal Revenue Code. Your donation to AMPO may qualify for an income tax deduction in accordance with Federal and/or State income tax laws.
Support AMPO online by sending your tax deductible donations:
Direct payment through Zelle, use this email: ampoonline@gmail.com

Pay Pal / Credit Card:

Donate by check, mail to: AMPO Midlothian Center 25667 Hillview Ct Mundelein, IL 60060
---
Connect with Us
We keep in touch in real time by joining our WhatsApp group. To join send an email to ampo25669@gmail.com
---
Location
AMPO Midlothian Center 25667 Hillview Ct Mundelein, IL 60060 Click here or the map below for directions via Google maps
---
Dua of the Month
---
---